Thank you for arriving at my site. I am Imi (here is my full CV), and I mostly work with intense, highly sensitive and gifted people.
In coaching, my goal is to be by your side on your journey from healing to thriving.  Please note that I no longer offer mental health psychotherapy but coaching and consulting. I will ask you questions that aim to spark reflections and inspiration. I am coaching you to know what your ideal life without emotional turmoils looks like and to live a life that is aligned with your values and integrity. We may look into your past wounds, but the goal ultimately is not to dwell on blaming but to see if we can help you break entrenched mental blockages and release what needs to be forgiven. I want to help you make real changes stay, and whilst life turbulence is inevitable, to not fall back to dysfunctional patterns, compulsive behaviors, or despair. We will aim at a holistic change process on an intellectual, visceral, and emotional level.
In our consultation sessions, I hope to offer you guidance on how to address the unique challenges of feeling and living intensely. I will also give you exercises that you can implement in-between sessions to consolidate the insights and learnings. Ultimately, I want to help you discover your life's mission, align with your life's values, and achieve your full potential and your chosen vocation.
For more information, please refer to the roadmap.
How Do We Meet?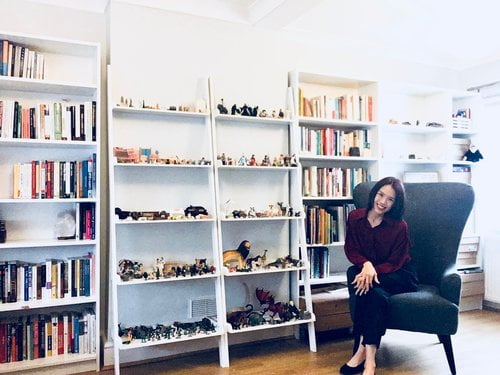 We will be meeting online.
I work with people from around the world, and will always work to accommodate our time differences.
For the meetings, we can use Skype, Zoom, or doxy— a secure platform that uses end-to-end encryption.
Meeting Online
In the digital age that we live in, we have lost certain structures and stability, but at the same time, technology gives us new options.  My practice went through a few technological transformations since it started as 'Eggshell Therapy' in Southwest London. It later moved to the Chelsea and Kensington district of London and is now a fully online practice.
Just like how you can now find your tribe across the world, online working allows you to access a worldwide community of helping professionals. You are now free to look for someone whose work suits your needs as a unique person or whose words you have a deep resonance with. Rather than being limited geographically, you now have the option to have a transformative relationship with whom you can genuinely relate.
Many people have found meeting from home allows them to feel safer. Opening your life story up to someone new is never easy, especially if your early experience had not allowed you to develop a sense of safety and security in the world. Being in the comfort of your own home can enable you to feel more at ease and in control so that you can open up at your readiness.
Although we cannot see each others' full bodies, we also get to cut out unnecessary distractions. I can focus on other subtle details, such as your tone of voice and changes in your facial expressions, which can be incredibly useful. In fact, the up-close focus of a video call can sometimes feel more intimate than an actual face-to-face session.
Seeing you in your private space allows me to enter into your world more directly, and having someone with you in the here and now of your internal and life battles may alleviate the loneliness many sensitive and intense individuals have carried all their lives.
In a nutshell, online coaching or consultation is no longer the second-best solution. With its own merits, it is something that is different from, but not inferior to, face-to-face work.
How Often?
I do not have a fixed rule about the frequency of our meetings.
The old gold standard of having weekly (or more frequent) sessions is arbitrary and does not reflect authentic and unique individual needs. Yes, sometimes, having some regularity can help us settle into an emotional rhythm. However, a weekly set-time schedule may seem undoable in our fast-moving modern world, where you might already feel stretched in multiple directions with financial, life, and work demands.
Indeed, entering this work is not a light undertaking- financially, emotionally, and pragmatically. At the same time, nothing is more important than investing in yourself and building a solid foundation for your relationship and creative endeavors in life.
If we were to meet less frequently, I might offer certain 'reflection prompts,' specific homework or exercises so that the work continues in-between sessions.
How Much?
It will be GBP 180 per session.
After booking the first session, you will receive an email confirmation with all the logistical details.
Using a credit or debit card, you can book your session with a secure online process.
With less than 24-hour notice, my cancellation policy is to collect the agreed amount of payment.
For How Long?
The duration very much depends on what you are after. Some people just want one or a few coaching sessions/ consultations for specific issues, others sign up for a course of 8-10 sessions, or longer-term, open-ended work.
I understand your desire to see changes fast. You may have read online or in books that there is no 'quick fix' for the particular issue you face. This may be true, but it is entirely possible to attain deep insights or experience rapid shifts in a short period of time. These shifts can then be consolidated via other means, such as less-frequent follow-up sessions, books, email support from me, or being around the right people in your life.  Our goal is to effectively equip you with the needed insights and capacity, so you can be free to live a full life as soon as possible.
I encourage you to trust your instinct and your ability to discern. If you decide halfway through that it doesn't work for you, you have the full right to withdraw and I will respect your decision.
Please email me at imi at eggshelltherapy dot com, or click on the button below.
I look forward to hearing from you!